Coldbox
A Clean Blog-Focused WordPress Theme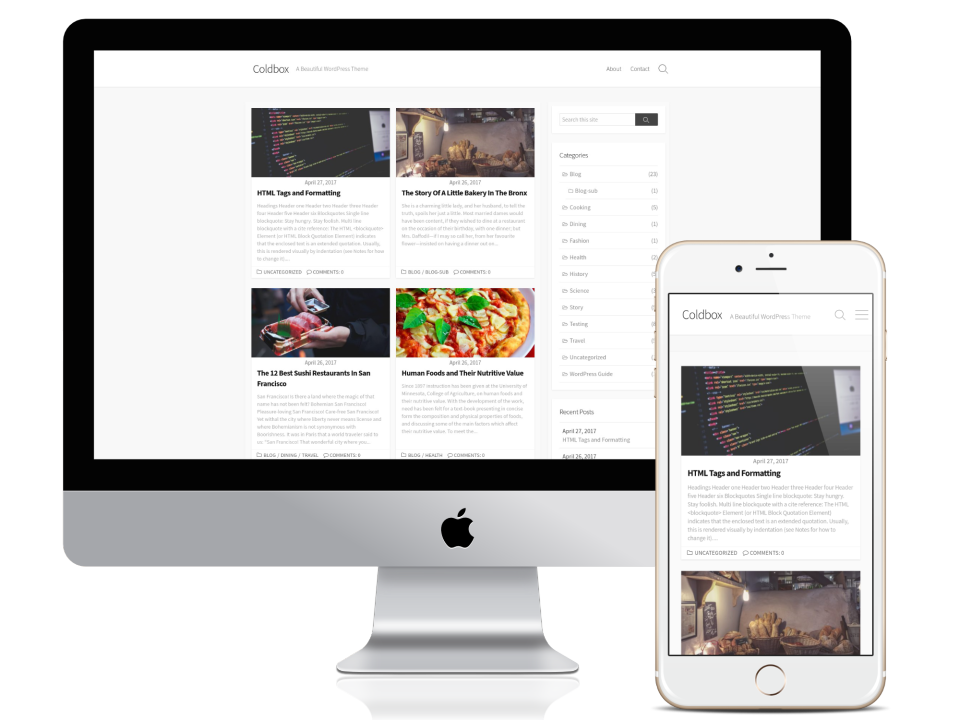 Theme Features
Customizable
You can change the appearance easily without coding.
Beautiful and Simple
It has been designed meticulously.
Resposive Layout
It is compatible with any devices.
Modern Layout
It is layouted with the Flexbox module, which is really flexible.
Validated Code
Its strings are all sanitized and escaped, that means safety.
Quick Load
It brings your website to be quicker.
Free
You can use full features and functions without any restrictions.
Moduler
Its templates are separated, which are easily editable.
Social Links
Show your social profiles so visitors can find your social profiles directly.
With the Addon Plugin... (Free)
Share Buttons
The share buttons increases your social engagement efficiently.
Support AMP
Supports the AMP, which is the fastest HTML format recommened by Google. You'll never lost visitors due to loading speed. See AMP Demo
Frequently Asked Questions
Where to get a child theme?
Its link is on top of this page.
I have just installed the theme! What should I do first?
You should regenerate all your thumbnails using Regenerate Thumbnails once after the theme installed. But that's it! Set up whatever you want on the theme customizer and enjoy the theme.
I found a bug. How can I report it?
Just let me know about the bug on the forum or email me. Thank you!
I have a new feature request.
Not satisfied with the features? You can just tell me what you want through the forum or my email.